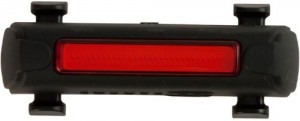 I previous wrote about how much I liked the  Serfas Thunderbolt USB Taillight. Well now I have even more reason to like it.  A couple of weeks ago, a plastic piece inside the USB connector broke off.  This is the same plastic piece you see on all female mini USB connectors.  I think this is bad design on USB's part, not Serfas.  I assume it broke because of the almost daily plugging in to be recharged.
I was about to order a new one, but decided to check out their warranty page: Serfas Warranty  I emailed their warranty email address about my problem and got a response within 30 minutes.  They said to mail it in and they would fix or replace it.
I mailed it in and about a week later I got a package at my door with a brand new Taillight.  This is an awesome product from a company who stands behind their product.   I highly recommend it. You can buy the Serfas Thunderbolt on Amazon I've already bought one for my kids.