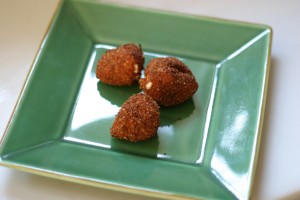 I'm a big fan of Jalapenos Poppers and Habanero Chili Peppers, so I figured I'd try to create some Habanero Poppers.   The result was a success.  Here's my recipe.
INGREDIENTS
2 Dozen Habanero's
12 ounces of cream cheese
8 ounces of shredded Cheddar cheese
1 cup milk
1 cup flour
1 cup bread crumbs
2 quarts oil for frying (I used Olive)
DIRECTIONS
Mix the cream cheese and the shredded cheddar cheese in a mixing bowl.
Cut the tops off the Habanero, and remove the veins and seeds.  This will allow you to stuff the cheese in.
Stuff the cheese into the Habanero's.  I had the best luck when I rolled the cheese into a cylinder about the same size as the Habanero hole and stuffed it in.

Pour the milk in one bowl and the bread crumbs in a separate bowl.

Dip the Habanero's in the milk and then roll them in flour to coat them.  Let them dry for 5 to 10 minutes.

Next, dip the Habanero's back in the milk and then roll them in the breadcrumbs.  Let them dry for 5 to 10 minutes.


Repeat the process of dipping the peppers into milk and then breadcrumbs about 2 more times or when the Habanero's are fully coated.  Don't worry.  Dipping them back in the milk will not remove the previous coating of breadcrumbs.

Heat a medium sized skilled with oil.  I used olive oil, but any cooking oil is OK.  (About 365 degrees F).

Deep fry the Habanero's for about 2 to 3 minutes.  They should be golden brown.  Remove and place on paper towel to dry and drain off excess oil.

Enjoy!

TIPS
Wear rubber gloves.  The Habaneros are hot and can burn your eyes.
Use reduced fat cream cheese.  It's hard to taste the difference.
Don't skimp on the dipping.  It's time consuming, but worth it.
If you're a wimp, you can substitute the Habanero's for Jalapenos.
If you're a wimp, make sure you have a big glass of milk on hand when eating the peppers.
Comments closed