May 13, 2010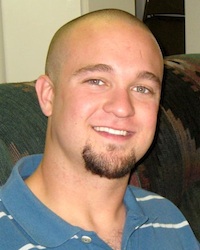 Anthony Cherry Diego of San Rafael California, passed away on May 6, 2010, at the age of 25.
Tony Diego was born on January 5, 1985 to Doug and Nancy Diego, in San Rafael, CA. He was the third child, preceded by his brother Doug Diego and sister April Diego.
Tony attended grade school at St. Raphael's in San Rafael. He went middle school at North Bay Christian Academy in Novato. He spent 2 years at Marin Catholic High School and 2 years at Terra Linda High School. Tony loved to play football and baseball and excelled in both.
Tony had a passion for cooking. He loved to cook almost as much as he loved to eat. He was a loyal friend, the kind of guy who would climb up in your scratchy 100+ degree attic or break the concrete out of your front yard if you asked him. He was instantly adored by his nieces and nephews, who he showered with affection and attention.
Tony most recently worked at Trader Joe's in San Rafael. He always walked in with an infectious smile on his face that quickly spread to everyone that encountered him.
Tony is survived by father, Doug Diego; mother Nancy Diego; brother Doug Diego; sister April Diego; grandfather John Diego; his girlfriend Alyssa Ruys and many aunts, uncles, nieces and nephews.
A memorial service will be held for Tony on Saturday, May 22nd at 11am in Petaluma at New Life Christian Fellowship Church.
The family requests that any donations be made to Saint Anthony's Foundation